Message from President Masanobu Furuta
Message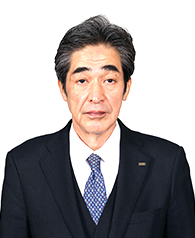 On behalf of the workforce at Daiwa Chemical Industries, let me say thank you to everyone out there who has used our products.
Daiwa Chemical Industries serves a wide range of customers in the textile, paper and pulp, plastics, construction materials and other fields by supplying products derived from processing technologies (emulsification, dispersion, synthesis, etc.) that we painstakingly developed and honed from our roots in surface and polymer chemistry.
We are also the first chemical company in Japan to have a test lab accredited and registered under the Japan National Laboratory Accreditation (JNLA) program. At our Evaluation and Technology Center, we provide antibacterial testing, fungal resistance validations and many other testing services, so consult with us about your testing needs.
To continue growing as a company, we are currently implementing our "Daiwa 2027" midterm business plan. This plan has been crafted to develop future strengths and steer us towards where we want to be in 2027. Of course, compliance and social contributions are integral practices of that mission.
Two other keywords that are important to that are "globalization" and "customer satisfaction." With regards to "globalization," we commenced operations at a new manufacturing plant in Jiangxi Province, China, at the start of 2015. And, through our commitment to "customer satisfaction," we continue to push ourselves day-in and day-out so that we are always in a position where we can propose to customers the best solutions that meet their needs.
Furthermore, we are always seeking harmony with the environment and the communities that host our operations, as part of fulfilling our social responsibilities as a business corporation.
I hope that you understand who we are at Daiwa Chemical Industries and continue to look to us for your product needs.

Masanobu Furuta
President, Daiwa Chemical Industries Co., Ltd.