Daiwa Chemical Industries does the below research and development.
Daiwa Chemical Industries is the best choice for high-quality, people- and eco-friendly products.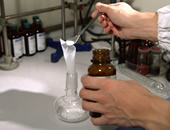 Proprietary technologies and stringent quality controls are guiding Daiwa Chemical Industries through the world's markets.
Both our Tokyo and Osaka Plants have R&D departments where staff passionately search for ways to bring "security and amenities" to users everyday. Product development for global and niche markets is user-focused and begins by tapping directly into what users want and need. This kind of development concept enables us to deliver more from our chemical engineering capabilities.
Our mantra to accurately identifying user needs in a rapidly changing world is to "be endeavoring, creative and speedy." From there, we are routinely applying our industry-leading engineering strengths and independent-mindedness to developing new products and challenging new fields. As the end result, we continue our contributions to society by working hard to be the best choice for high-quality, people- and eco-friendly products.

R&D policy
Explore the depths of promising technologies in order to develop purpose-specific, highly practical products.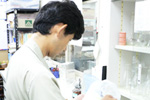 (1) Develop new products in line with business strategies.
(2) Strengthen business foundations by cultivating core technologies.
(3)Enhance the R&D efficiency through focused research selection and flexible management.
At Daiwa Chemical Industries, the R&D is the means for continuous corporate growth and greater customer satisfaction.